Graduate School and Humanities Center Get NEH Grant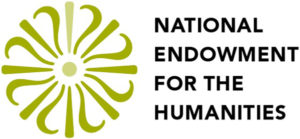 The Graduate School and Humanities Center have received a Next-Generation Ph.D. Planning Grant from the National Endowment for the Humanities (NEH). The $50,000 award ($25,000 from NEH, to be matched by funds from non-federal third parties) supports institutional efforts to diversify career preparation for Ph.D. students in the humanities. Most humanities Ph.D. programs in the US still prepare students primarily for tenure-track professor positions at colleges and universities. The increasing shortage of such positions has changed students' expected career outcomes. The NEH grant will launch a systematic planning effort at SU for initiatives to support humanities doctoral students as they explore and pursue a wide range of meaningful careers.
Project co-directors Glenn Wright, director of programs for the Graduate School, and Vivian May, director of the Humanities Center, will convene a planning committee comprised of current students, program alumni, faculty with a variety of appointments, administrators and staff in relevant positions, and others representing professional destinations for doctoral graduates. The committee will in turn form four working groups, which will consider opportunities to:
reform or expand curricular offerings to equip Ph.D. students with broadly applicable skills;
integrate professional development and career preparation so that students transition gradually from an emphasis on success in their degree programs to success in job placement;
create an alumni network to provide guidance to current Ph.D. students;
develop guidelines and resources to allow Ph.D. students to pursue dissertation projects other than traditional academic monographs.
The project is funded through May 2019. Also receiving 2018-19 Next-Generation Ph.D. Planning Grants are Washington State University, West Virginia University, and the University of Pittsburgh.
__________________________________________________________________________________
Congratulations New and Returning Teaching Mentors!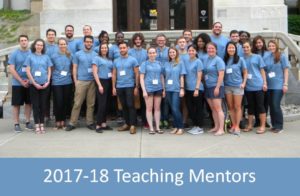 The Graduate School is proud to announce the Teaching Mentors for 2018–19. Selected for their excellence in teaching and overall graduate study, the Teaching Mentors serve as small-group leaders and mentors to approximately 300 new TAs during the TA Orientation Program in August. They also assist in the development and implementation of TA Program activities throughout the academic year. Thanks to all those who applied, and a warm welcome to our Teaching Mentor staff!
Adebimpe Adegbit, Languages, Literatures, & Linguistics
Sule Aksoy, Science Teaching
Jacob Bartholomew, Sociology
Camilla Bell, Cultural Foundations of Education
Emily Bukowski, Geography
Felicia Burns, Chemistry
Andrea Catroppa, History
Philip Claghorn, Architecture
Liz Cooney-Petro, Communication & Rhetorical Studies
Gemma Cooper-Novack, Reading & Language Arts
Ryan Curl, Psychology
Bess Davis, Political Science
Brittany Eggleston, Psychology
Gianpietro Elias, Exercise Science
Joash Mochogi Geteregechi, Mathematics Education
Laura Jaffee, Cultural Foundations of Education
Crystal Lee, Sociology
Jiyoung Lee, Mass Communications
Tae Hyun Lim, Political Science
Nafiseh Majd, Civil & Environmental Engineering
Caleb McWhorter, Mathematics
Chelsea Mixon, Teaching & Leadership
Grace Njuguna, Teaching & Leadership
Sara Petit-McClure, Teaching & Leadership
Morgan Proulx, Psychology
Rikki Sargent,  Psychology
Heather Waymouth, Reading & Language Arts
Carle Wirshba, Music
Duygu Yeni Cenebasi, Religion
Anemone Zeneli, Teaching & Leadership
Ying Zhang, Human Development & Family Science
Tie Zheng, Civil & Environmental Engineering
_________________________________________________________________________________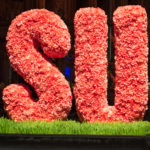 Excellence in Graduate Education Winners Announced
The Excellence in Graduate Education Faculty Recognition Award honors faculty members whose dedication to graduate students and commitment to excellence in graduate teaching, mentoring, and career preparation have made a significant contribution to graduate education at Syracuse University. Nominations from across campus were reviewed by a multidisciplinary graduate student committee. Please join the Graduate School in congratulating this year's outstanding lineup of deserving awardees:
Eunjoo Jung, Human Development and Family Science
Norman Kutcher, History
Jing Lei, Instructional Design, Development and Evaluation
Graham J. Leuschke, Mathematics
Eleanor M. Maine, Biology
Adam R. Peruta, Magazine, Newspaper and Online Journalism
George Theoharis, Teaching and Leadership
Evan L. Weissman, Public Health, Food Studies, and Nutrition
_________________________________________________________________________________
The Humanities Center Announces Dissertation Fellows for 2018-2019
Following an early spring application and review period, two Humanities Center fellowships are awarded each year to students completing dissertations in an eligible Ph.D. program in The College (English, Philosophy, Religion, and Writing Studies, Rhetoric and Composition). The dissertation or project must show evidence of strong humanities content and methods and contribute to advancing one of the disciplines of study within the Humanities. Here are the Humanities Center's Dissertation Fellowships for the 2018 – 2019 academic year: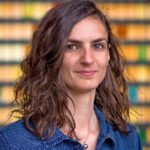 Lorenza D'Angelo, Ph.D. candidate, Philosophy
M.A. French and German Philosophy, University of Toulouse II Le Mirail (France); B.A. in Philosophy, University of Rome La Sapienza (Italy)
Dissertation: "The Value of Experience: Non-Sensory Phenomenology and Well-Being"
A person's experiences may be good or bad for her, but why? Value theorists often presume that, if experience is intrinsically valuable, our answer can only appeal to the state of a person's sensory system. This follows from a widespread assumption in the philosophy of mind, according to which all conscious experience is sensory. This assumption, however, has been challenged in recent years and should not be taken for granted. D'Angelo shows how its rejection engenders a richer, more plausible account of the value of experience for well-being. In particular, she argues that attending to the non-sensory constituents of experience leads to a better understanding of the most cognitively sophisticated varieties of human happiness and suffering. D'Angelo's dissertation advisor is Ben Bradley.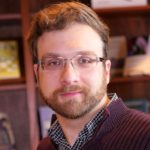 Adam Kozaczka, Ph.D. candidate, English
M.A. English, Syracuse University; B.A. Comparative Literature, Fordham University
Dissertation: "Romantic Legalism: Masculinity, Violence, and Character in Novel and Courtroom"
"Romantic Legalism" studies the overlap between literary and historical texts on one hand and legal procedures on the other to consider how different disciplinary definitions of "character," "character type," and "character evidence" converged in the late eighteenth and early nineteenth century.  The project also considers how Walter Scott, Jane Austen, Frances Burney, William Godwin, and their contemporaries wrote novels offering a better history than the law when it came to interpreting character. Kozaczka considers what influence such literary works may have had on jurisprudence and on the behaviors of judges and jurors. His dissertation advisor is Mike Goode.
_________________________________________________________________________________
Online Career Conference for PhDs
The Graduate School's Office of Professional and Career Development is offering a limited number of free tickets to participate in the 5th annual Beyond the Professoriate Online Career Conference for PhDs. The online conference takes place 11 am–4 pm on Saturday, May 5, and Saturday, May 12. The program for Day 1 includes sessions on launching the job search, navigating the hiring landscape in today's economy, using the Internet to get the job you want, and writing high-impact resumes. Day 2 offers sessions tailored to job searches in higher education administration, government, industry, and the non-profit sector. Participants can access the conference anywhere there is an Internet connection via Zoom webinar. A video archive of conference sessions will remain available through June 15, 2018.
Current PhD students and postdocs in the social sciences, humanities, and STEM fields can apply to receive a ticket to the conference (a $69 value) by completing a brief form available in the Graduate School, 304 Lyman Hall. (Students who are not physically resident in the Syracuse area may contact Dan Olson-Bang, dolsonba@syr.edu.) The deadline to apply is Monday, April 30, but spaces are limited and will be awarded first-come, first-served. Ticketed applicants will receive instructions for accessing the conference via email.
Beyond the Professoriate offers workshops, strategy sessions, online videos, career seminars and panels, a mentorship program, a blog, and other resources for PhD students and graduates seeking meaningful employment outside the academy, as well as opportunities to connect with like-minded peers for career exploration. Originating as an online conference in 2014, the initiative has evolved into one of the leading international organizations providing professional development and career coaching to graduate students and PhD's interested in non-faculty careers.
_________________________________________________________________________________
Student Spotlight: Whitesides Researches Ancient Features of Wenzhounese
Henry Whitesides discovered the fascinating variety of Chinese that is Wenzhounese while living in China before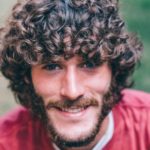 beginning his master's program in linguistics at SU. After having studied Mandarin for several years as an undergraduate and studying abroad in Beijing, Whitesides was fairly confident in his ability to communicate. However, when he arrived in Wenzhou, he found he could not comprehend a single word that was said. To his relief, he realized that what he was hearing was not Mandarin at all but an entirely different language.
Tucked away between a range of mountains and the South China Sea, Wenzhounese's geographic isolation has allowed it to resist centuries of language change witnessed in the regions surrounding it. It has been called a "living fossil" due to its retention of certain elements of Middle Chinese which are absent in other Chinese languages, such as Mandarin. Often mistaken for Japanese, Korean, or Thai, Wenzhounese is not intelligible to speakers of any other variety of Chinese and is widely regarded as the most difficult Chinese language to learn. Its notorious complexity has earned it the nickname "the Devil's language," and inspired a Chinese proverb: "Fear not heaven, fear not earth, but fear the Wenzhou man speaking the Wenzhou tongue." A common Wenzhou anecdote is that the Chinese military used Wenzhounese as a code during WWII to conceal their communications from the Japanese.
What began as a necessary attempt to communicate evolved into the topic of Whitesides' master's thesis. Upon realizing that many of the residents of the village in which he lived spoke little Mandarin, he began searching for materials to learn Wenzhounese, but came up empty. One of the factors that contributes to the difficulty of this language is that it has never had a writing system, and only a scant amount of material for teaching the language exists. Thanks to the patience of new friends in Wenzhou, Whitesides was able to collect data on the language, which he is now using to compose a thesis on its retention of the ancient elements that have become all but extinct.
_________________________________________________________________________________