Counseling Center Extends Hours, Hosts Group Therapy Sessions for Grad Students
At Syracuse, supporting the health and well-being of our graduate students is a continuous commitment. Ensuring that all graduate students have access to quality, affordable healthcare coverage, and providing comprehensive mental health and counseling services is a top priority.
Our on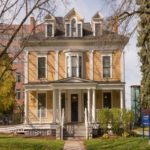 -campus Counseling Center – located at 200 Walnut Place (315.443.4715) – is at the heart of this effort, providing support during times of crisis, providing advocacy, promoting personal growth, and supporting academic success. All graduate students have full access to the Center's confidential services, which include individual and group therapy sessions on a range of topics as well as support on substance abuse, sexual assault and relationship violence–related issues. For more information on the Counseling Center's services, please visit the Counseling Center's website.
To meet the needs of students with less traditional schedules, especially among graduate students, the Counseling Center added evening hours (until 7:00 p.m.) on Mondays and Thursdays this semester. Because of the positive response, we will extend evening hours to four days per week beginning in the fall semester.
Also, to answer specific requests from graduate students, the Counseling Center is currently hosting two group therapy sessions each week specifically for graduate students to talk through issues, such as stress management. There are currently two spots left in the graduate students group at 3 p.m. on Tuesdays for those who are interested. Click here for information on group therapy.
Should you have any questions or want access to services, please don't hesitate to reach out to the Counseling Center at 315-443-4715.
_________________________________________________________________________________
Dr. Rick McGee Speaks on "Mentoring Up," April 13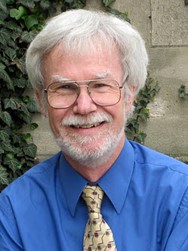 Dr. Rick McGee, Associate Dean for Faculty Recruitment & Professional Development and Professor of Medical Education at Northwestern University, will present a workshop for graduate students and postdocs on the theme of "Mentoring Up" on Friday, April 13, 2:30-4:30 p.m. in Link Hall 369. Mentoring relationships have greater value and are more effective not only when the mentor is adept at giving advice, but also when the mentee is prepared to guide the mentor. The powerful skill of "mentoring up" can help you get the most out of a mentoring relationship. Dr. McGee will introduce tools for how to manage your relationships with your mentors in ways that work for you.
Dr. McGee leads Northwestern's Collaborative Learning and Integrated Mentoring in the Biosciences (CLIMB) program, which was established to "create a diverse community of young scientists from Northwestern's five PhD life sciences programs." CLIMB aims to assist early career scientists and students in their professional development so that they may become more effective at communicating, collaborating, and leading productive research careers. These groups utilize a variety of mentoring approaches, especially peer-to-peer mentoring and structured group mentoring. The workshop, sponsored by Women in Science and Engineering (WiSE), is open to graduate students and postdocs of all genders. Contact Stephanie Wyatt for more information at smwyatt@syr.edu.
_________________________________________________________________________________

Study Abroad Course to India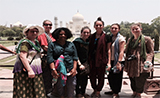 Applications are now being accepted for enrollment in CFS/NSD/SAS 600 – South Asian Culture: Family, Food and Healthcare Systems in Fall 2018. The first part of the this 3-credit course will consist of online instruction, assigned and recommended readings, online discussion, online student presentations and webinars presented by faculty members from India on community-based projects and traditional food and healthcare systems. Pre-departure programming will be part of the online instruction module.
The second part of the course will encompass a cultural immersion trip to India, January 1-13, 2019. Students and faculty will visit New Delhi in North India, the city of Agra where the Taj Mahal is situated, and the city of Baroda in Western India. During the trip students will have an opportunity to visit schools, community program sites, NGOs, educational institutions, and traditional and modern healthcare facilities. They will go on Food Walks and learn about South Asian culture by interacting with families and communities in both rural and urban areas.
Program fees will total $3,000-$3,400 (exact amount to be determined based on enrollment), and will include roundtrip airfare from NYC to Delhi, airfare from Delhi to Ahmedabad, local transportation (we will be visiting 4 cities), hotel accommodation (two students will share an air-conditioned room), and tickets to sites like the Taj Mahal, Qutub Minar, Humayun's tomb, Gandhi's home, and Laxmi Vilas Palace.
Enrollment requires a brief (15-20 minute) application, which is due March 20, 2018. Please contact Prof. Kamala Ramadoss at kramados@syr.edu or visit SU Abroad.
_________________________________________________________________________________

Graduate Research Roundtables
This semester the ECS-GSO, SU Libraries, and the American Society for Engineering Education (ASEE) are sponsoring a series of Graduate Research Roundtables to help you through your research journey. Events take place designated Thursdays at the Inn Complete. Come to learn, stay for trivia! Registration is required, and limited to 30 participants. Click program titles below to register.
On Thursday, March 22, the topic will be "Data Tools & Publishing Support," 6:00-7:3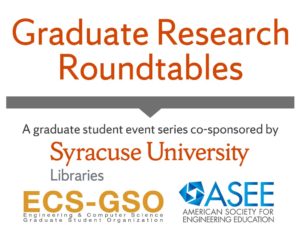 0 p.m. SU librarians will discuss tools to help collect and process research data, and provide tips for selecting appropriate journals to publish in. The program is geared towards graduate students in the middle or latter stages of their programs
The semester's final event, Thursday, April 5, will focus on "Career Resources and Funding Opportunities," 6:00-7:30 p.m. SU librarians and Associate Director of Graduate Student Services, Dan Olson-Bang, will discuss a variety of career resources, including industry and company profiles, funding tools, and more to help you launch your career.
Food and one free drink ticket provided at both events!
_________________________________________________________________________________

Workshops for PhD Students, Faculty on Non-academic Careers
In late March, the Graduate School brings Dr. Sarah Peterson, Content Lead for the web-based professional development tool ImaginePhD, to campus for a pair of workshops—geared toward humanities/social science PhD students and faculty, respectively—on the non-academic job search. Click on the program titles to register.
On Thursday, March 29, Peterson will lead a workshop for faculty on "Supporting a Broad Career Search for Humanities and Social Science PhDs," 2:00-3:15 p.m. in Bird Library 114 (Peter Graham Scholarly Commons). She will discuss strategies to support doctoral students in exploring and preparing for non-faculty careers, such as the use of individual development plans that promote both degree completion and professional/personal development. Attendees will learn how tools like ImaginePhD can be mobilized to facilitate conversations about career options and integrated into career diversity initiatives at the departmental level.
Friday, March 30, brings a workshop on "Career Exploration and Planning for Humanities and Social Science PhDs," 11:30 a.m.-12:45 p.m., also Bird Library 114. Peterson will discuss common barriers PhDs face when considering a broad career search, and how resources like ImaginePhD can help to overcome them. Attendees will learn how to assess their skills, interests, and values, map those onto career paths, and devise individual development plans to ensure that their graduate education equips them with the skills they need to secure and succeed in positions outside the academy. Lunch will be provided courtesy of the Graduate School.
ImaginePhD is a free and confidential career exploration and planning tool for humanities and social science PhDs, developed by more than 50 graduate-level career and professional development leaders across North America under the auspices of the Graduate Career Consortium. In addition to her role with ImaginePhD, Sarah Peterson is Director of New Initiatives for the Atlanta Science Festival, an organization she co-founded. Previously, she was Associate Director for Student Support Services and Professional Development at the Laney Graduate School at Emory University. Dr. Peterson completed her PhD in English at Emory University and received her BA in English and Art History from Skidmore College.
_________________________________________________________________________________
Impending Deadlines
March 23rd – FPP Participation Summary Forms Due
March 23rd – Certificate in University Teaching Completion Forms Due
_________________________________________________________________________________