Stuck on ABD? Enlist in Dissertation Boot Camp
Attention dissertators! Is your funding clock ticking? Proposal deadline looming? Need "degree in hand by time of appointment"? Or just fed up with your own lack of progress? Whatever the situation, make your dreams of writing productivity come true by signing up for SU's antidote to chronic procrastination, the Winter Break Dissertation Boot Camp, to be held Friday, January 5, and Mon-Thurs, January 8-11, in the lower level of Bird Library. Provisions include:
At least 6 hours of dedicated, distraction-free writing time per day
On-site writing consultants, subject librarians and data services specialists
Optional workshops on dissertation-completion-related topics
"Mental Recharge Station" and "Zen Zone" de-stressing area
Lunch provided!
Coffee, tea and light refreshments available all day
Opportunities to form peer support groups and find writing buddies
Desktop and laptop computers and wifi available
PhD students in all programs and at all stages of the dissertation (including proposal-writing) are eligible.
How to apply? Be online at 9:00 a.m. EST on Monday, November 13, when this APPLICATION LINK becomes active. The first 30 applicants will then have 5 business days to submit a pre-camp self-assessment (which you will receive by email) and $10 refundable deposit to Master Sgt. Peg De Furia in the Graduate School, 304 Lyman Hall.
Is Boot Camp effective? The numbers don't lie: last year's campers gave the program an overall rating of 4.8 (5.0) and rated the "probability of recommending Dissertation Boot Camp to others" at 4.9 (5.0).
Questions may be directed to Master Sgt. Peg (x4646; mldefuri@syr.edu). The Dissertation Boot Camp is co-sponsored by the Graduate School and SU Libraries.
_________________________________________________________________________________
Take Pride in Your Work as a TA? Apply to be a Teaching Mentor
The Graduate School invites experienced current and former Teaching Assistants to apply for the position of Teaching Mentor. The designation of Teaching Mentor signifies excellence in both teaching and graduate study and constitutes a notable academic and professional honor. We seek Teaching Mentors with a range of disciplinary backgrounds; fair representation in terms of nationality and gender is also important.
The responsibility of Teaching Mentors is to serve as the core instructional staff during the August Teaching Assistant Orientation Program. During the August orientation, Teaching Mentors serve as session planners and presenters as well as small-group leaders and mentors to the University's approximately 300 new TAs. All interested Teaching Assistants are encouraged to attend one of the informational meetings listed below to learn more about this paid position. No pre-registration for these information sessions is necessary. Sessions will be held as follows:
Wednesday, November 29, 2017, 2:30 – 3:30 p.m., 114 Lyman Hall
Wednesday, January 17, 2018, 10:00 – 11:00 a.m., 228 Lyman Hall
Friday, January 19, 2018, 2:00 – 3:00 p.m., 228 Lyman Hall
Monday, January 22, 2018, 9:00 – 10:00 a.m., 228 Lyman Hall
Wednesday, January 24, 2018, 11:30 – 12:30 p.m., 228 Lyman Hall
Applicants must be available to attend the following training and TA Orientation days:
Friday, April 20, 2018, 3:30 – 5:00 p.m.
Wednesday, August 8, 2018 through Friday, August 17, 2018
If you have any questions, please feel free to contact Shawn Loner (x3431; scloner@syr.edu) in the Graduate School, 304 Lyman Hall. View more information on the Teaching Mentor application webpage.
_________________________________________________________________________________
Seeking Nominations for Excellence in Graduate Education Awards
Is there an outstanding professor you would like to honor? Let us know! The Graduate School is now accepting nominations for the annual Excellence in Graduate Education (EGE) Faculty Recognition Award designed to honor exceptional graduate educators here at SU. Awards will be made on the basis of the nominees' mentorship, graduate-level teaching, career advisement, and advocacy efforts on behalf of grad students.
See the EGE web page for complete information about eligibility requirements and the nomination and selection processes. Only one faculty member from each department can win the award in a given year, so please consult with your department chair regarding prospective nominations.
Send nomination materials to Dina Ioannidis (kioannid@syr.edu) in 304 Lyman Hall by Wednesday, February 16, 2018. Questions? Contact Peg De Furia (x4646; mldefuri@syr.edu) in the Graduate School.
_________________________________________________________________________________
2018 Outstanding TA Award Nominations
The Graduate School is pleased to announce the 31st annual awards pro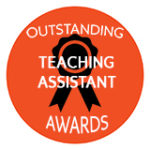 gram recognizing Outstanding Teaching Assistants. This program was instituted to recognize TAs who have made distinguished     contributions to Syracuse University by demonstrating excellence as primary instructors, lab or studio instructors, discussion/recitation section leaders, or assistants to faculty members for high-enrollment courses. Nominations for the OTA are put forward by the departments and programs, so if you would like to be considered, please inquire with your department regarding the nomination process.
The nomination deadline is Friday, January 26, 2018.
TAs receiving nominations are required to submit a teaching portfolio. To facilitate this process, the Graduate School Programs office will hold two portfolio information sessions in 312 Lyman Hall:
Wednesday, February 7, 3:00-4:00 p.m.
Friday, February 9, 10:30-11:30 a.m.
Portfolios must be submitted to the Graduate School by Friday, February 23, 2018. If you have questions about the TA Award process, please contact the Graduate School Programs office at 443-3458 or stop by 304 Lyman Hall. Information is also available on the Outstanding TA call for nominations webpage.
_________________________________________________________________________________
Apply to Be a Public Humanities Graduate Fellow
The Humanities Center and the CNY Humanities Corridor will host an information session about the Public Humanities Graduate Fellowship program on Friday, December 8, at 10:30 a.m. at the Humanities Center in 304 Tolley. Current and former fellows will be on site to talk about the fellowship and answer questions. A light breakfast will be available.​
At Syracuse University, the program is open to graduate students pursuing a PhD in Anthropology, Composition and Cultural Rhetoric, English, Geography, History, Philosophy, Religion, Sociology, Cultural Foundations of Education, or Literacy in Education. It is also open to graduate students pursuing an MFA in Creative Writing or in VPA (3-year MFA programs only).
Each year, SU is awarded two fellowships. Info on current and prior fellows is available online. The Call for Applications sheet is available on the Humanities Center webpage under the "forms" pulldown menu, where you will also find the HNY link to apply for this fellowship program.​ Questions can be sent to Humanities New York Program Officer Adam Capitanio (212-233-1131 or acapitanio@humanitiesny.org).
_________________________________________________________________________________
Interfaith Dialogue Dinner: Is All News Fake?
As part of the semester-long series, "Common and Diverse Ground: Raising Consciousnesses by Acknowledging the 'Hidden' Things that Divide Us," the Disability Cultural Center (DCC) and Hendricks Chapel invite all graduate students to an Interfaith Dialogue Dinner, whereat we shall consider: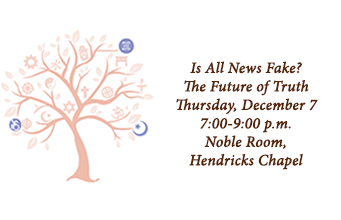 Each gathering includes a shared meal, facilitated dialogue, and two mindful meditations (at beginning and end). Sessions are co-facilitated by chaplains, staff, and students.
The series is made possible through the Co-Curricular Departmental Initiatives program within the Division of Enrollment and the Student Experience. American Sign Language (ASL) interpretation and inclusive food will be provided. Requests for accommodations or food queries should be made at least seven days before the gathering by contacting sudcc@syr.edu.
_________________________________________________________________________________
Around the Interwebz: ImaginePhD
On October 23, the Graduate Career Consortium rolled out its hotly anticipated ImaginePhD career exploration and planning tool for doctoral students in the humanities and social sciences. Inspired by the Individual Development Plans (e.g., my IDP) commonly in use in STEM fields, but developed over three years specifically to meet the career needs of humanists and social scientists, this free and confidential tool teaches PhD students and postdocs about popular job sectors, search strategies, and how to transfer skills across settings.
ImaginePhD allows you to assess your career-related skills, interests and values; explore career paths (organized into 16 job "families") appropriate to your discipline, and map out steps for degree completion alongside career and professional development. Whether you're just beginning the PhD, are mid-stream, or are nearing—or past!—the finish line, this powerful tool can help you bridge the knowledge gap between doctoral education and the realm of career possibilities.


_________________________________________________________________________________

GEM Fellowship Programs in Engineering and Science: Application deadline November 13, 2017
GEM's fellowship programs for underrepresented groups (African Americans, American Indians, and Hispanic Americans) span the entire recruitment, retention, and professional development spectrum. GEM's principal activity is the provision of graduate fellowships at the MS and PhD levels, coupled with paid summer internships. Current Masters students are eligible to apply for the GEM Engineering PhD and Science PhD fellowships, with a $16,000 stipend and guaranteed summer internship. GEM also offers fellowships without paid summer internships through the GEM University and Associate Fellowship programs.
Critical Language Scholarship (CLS):  Application deadline November 15, 2017
The Critical Language Scholarship (CLS) Program offers fully funded cultural and language immersion programs for American students. Graduate and undergraduate students are eligible. Recipients of the award will spend the summer studying and mastering the critical language of their choice: Arabic, Azerbaijani, Bangla, Chinese, Hindi, Indonesian, Japanese, Korean, Persian, Punjabi, Russian, Swahili, Turkish, or Urdu. In some cases, prior study of the language is required. Come to the Center for Fellowship and Scholarship Advising's Boren CLS Essay Writing Workshop, Thursday, Nov. 9, 1-2:30 pm in Sims Hall 437.
Boren Fellowship: Application deadline January 30, 2018
Boren Fellowships fund graduate students in language training, research, and cultural immersion in countries critical to U.S. national security interests but underrepresented in study abroad. Applicants must include plans to study a critical need language intensively while pursuing coursework or research. Boren Fellows must commit to serving at least one year in the national government in a position relevant to national security. Come to the Center for Fellowship and Scholarship Advising's Boren Awards Interest Session, Friday, Nov. 10, 12-1 pm in Hall of Languages 102.
_________________________________________________________________________________