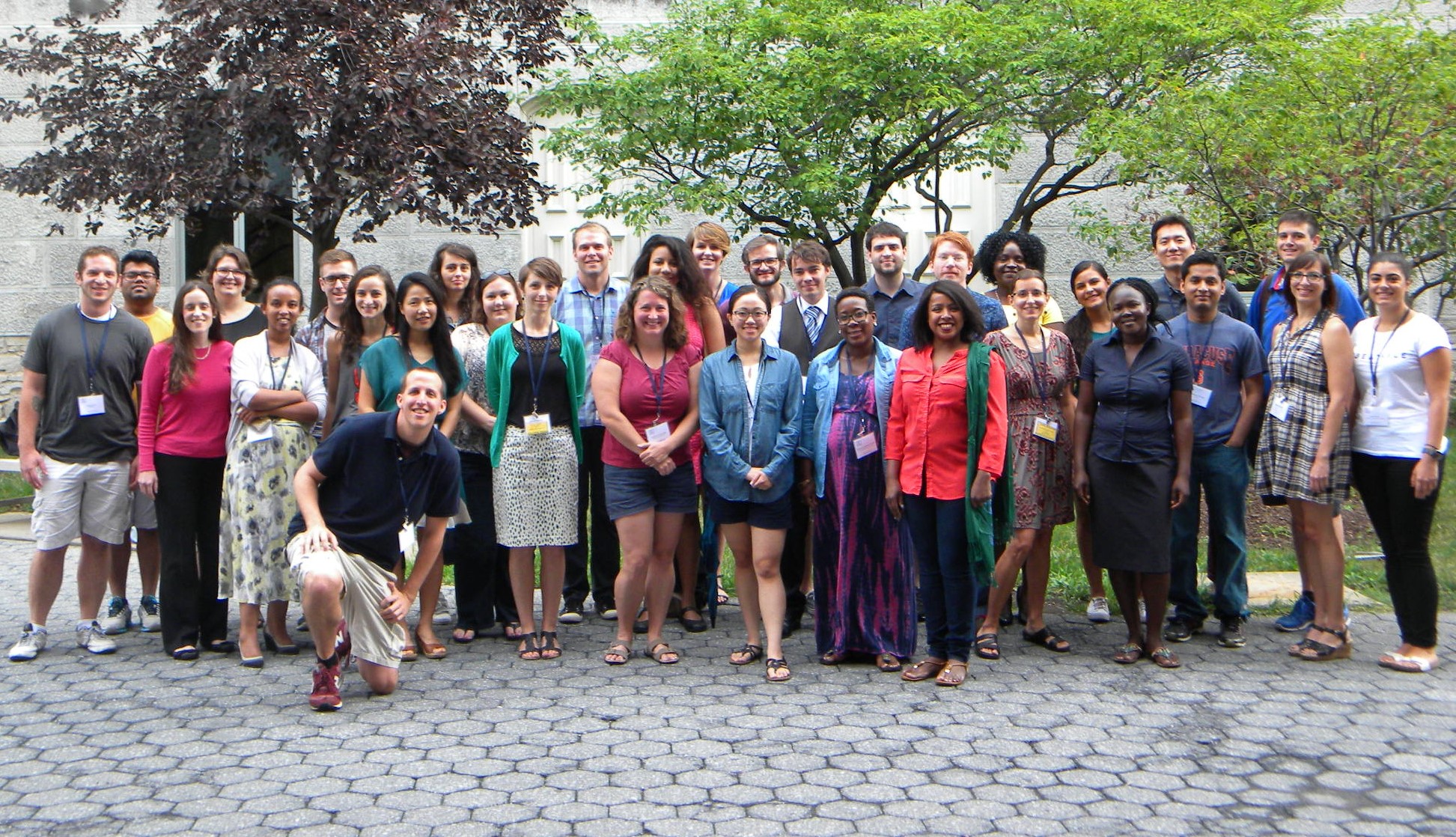 A rigorous application process culminates in the selection of 28-34 outstanding individuals to be awarded a teaching mentor position.
Selected for their excellence in teaching and overall graduate study, and representing colleges and disciplines from across the university, the teaching mentors comprise the "core faculty" during the Teaching Assistant Orientation Program. The teaching mentors serve as small group leaders and mentors to approximately 300 new TAs each August. They also participate in the development and implementation of TA Program activities throughout the academic year and act as teaching consultants for the Graduate School.
2019-2020 Call for applications.
To learn more about the teaching mentor position or how to apply, email the TA program Coordinator, Shawn Loner.
2018-19 Teaching Mentors
Adebimpe Adegbit,  Languages,
Literatures, and Linguistics
Laura Jaffe,
Cultural Foundations of Education
Sule Aksoy
Science Teaching
Haejoo Kim,
English
Jacob Bartholomew,
Sociology
Crystal Lee,
Sociology
Sagnik Basumallik
Electrical Engineering & Computer Science
Jiyoung Lee,
Mass Communications
Camilla Bell,
Cultural Foundations of Education
Tae Hyun Lim,
Political Science
Emily Bukowski,
Geography
Caleb McWhorter,
Mathematics
Felicia Burns,
Chemistry
Grace Njuguna,
Teaching & Leadership
Philip Claghorn,
Architecture
Sara Petit-McClure,
Special Education
 Liz Cooney-Petro,
Communication & Rhetorical Studies
Morgan Proulx,
Psychology
Gemma Cooper-Novack,
Reading & Language Arts
Rikki Sargent,
Psychology
Ryan Curl,
Psychology
Heather Waymouth,
Reading & Language Arts
Elizabeth Davis,
Political Science
Carle Wirshba,
Setnor School of Music
Chris DiCesare,
Communication & Rhetorical Studies
Duygu Yeni Cenebasi,
Religion
Gianpietro Elias,
Exercise Science
Anemone Zeneli,
Teaching & Leadership
Joash Mochogi Geteregechi,
Mathematics Education
Ying Zhang,
Child and Family Studies
Kathleen Huber,
Psychology
Tie Zheng,
Civil & Environmental Engineering