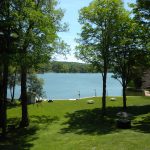 Each year the Future Professoriate Program (FPP) sponsors a professional development conference for FPP participants and faculty at Syracuse University and nearby schools. The two-day program is generally held at a resort-style center such as the Tailwater Lodge in Altmar, NY, or the White Eagle Conference Center in Hamilton, NY, the week after Commencement.
The free conference features a full slate of FPP-themed programming and opportunities to engage with faculty from SU and diverse institutions around the CNY region.
The relaxed environment provides a forum for faculty and graduate students from all disciplines to discuss current issues in higher education, learn about new pedagogical and technological advances relevant to the academy, and envision future directions for the FPP.
Programming includes a combination of plenary and concurrent sessions that address multiple facets of graduate student and faculty life. Common session topics include teaching strategies, job search preparation, the grad-student-to-faculty transition, grant seeking, academic publication, and more.
Just as important are the numerous networking, mentoring, and recreational opportunities afforded by the conference's generous schedule and bucolic surroundings. Moreover, registration, accommodations, food, and transportation are all paid for by the Graduate School!
Past conference programs and keynote videos are below.
FPP Conference Program 2023 (PDF)
FPP Conference Program 2022 (PDF)
FPP Conference Program 2021(PDF)