The 2022 Forever Orange Scholarship provides half of the tuition for students who enroll full-time in a qualifying graduate degree or certificate program at Syracuse University. The scholarship is automatically available to all Class of 2022 graduating Syracuse University seniors who are eligible for admission—no separate scholarship application is needed. Graduating seniors who have already been admitted to a qualifying graduate program are also eligible.
The scholarship cannot be combined with any other program-granted graduate funding awards, such as assistantships, fellowships or other scholarships, nor can it be deferred to future terms. The scholarship is only for those programs on the List of Qualifying Programs by School and College.
Forever Orange Scholars in Their Own Words
Celina Carranti '21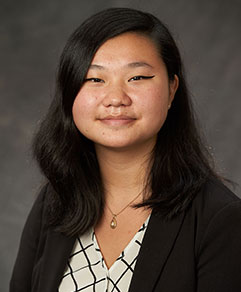 Celina Carranti graduated summa cum laude with Renée Crown University Honors and Distinction. She is building on her undergraduate degree in political science by using the Forever Orange Scholarship to pursue a master's degree in international relations through the Maxwell School's Department of Public Administration and International Affairs as well as a certificate of advanced study in national security and counterterrorism law through the College of Law's Institute for Security Policy and Law. She hopes to eventually attend law school and then pursue a career working on issues of national and international security as an attorney within the federal government.
"Continuing my education at Syracuse as a graduate student has given me the opportunity to expand my regional knowledge, analytical skills and understanding of the policy process, which is essential for a future career in public service," Carranti says. "It has also allowed me to learn from professors who have first-hand experience working as public servants in the fields of national security and foreign policy."
Taylor Grosso '21
Taylor Grosso is currently pursuing her master of public administration at the Maxwell School after graduating with degrees in biochemistry and environment, sustainability and policy. As a student in the MPA program, she has been a research assistant for the Autonomous Systems and Policy Institute.
"I am currently focusing my research on incorporating emerging technologies into today's society in a sustainable manner. I wanted to further my knowledge at the administrative and policy level."  She says that the Forever Orange Scholarship has allowed her to learn from some of the most knowledgeable people in the field.
Margaret Haggerty '21
Margaret Haggerty graduated with a bachelor's degree in sport management, with a minor in writing and public communications studies. She planned to work for a few years before graduate school, but chose to use the Forever Orange scholarship opportunity to apply to the Newhouse School's broadcast and digital journalism's sport media track. She graduates in August, after which she will take on a professional position with the International Tennis Hall of Fame.
"There hasn't been a day where I haven't learned something new. Whether it's in classes or at work, I've just been constantly gaining new skills and expanding on the ones that I already had," Haggerty says.  While she had some job possibilities after finishing her undergraduate degree, "The Forever Orange Scholarship made the decision to apply to graduate school easier," she says. Haggerty recommends that seniors considering graduate school review the eligible programs at Syracuse and decide if enhancing their education makes sense.  She says she's much more qualified for a competitive job market because of her graduate experience, "This program is hands-on. The stress of a newsroom is real, and you feel exactly that in the classroom. There's also so much to do between the ACC Network and other extracurriculars that gaining new opportunities and learning is never an issue," she says. Haggerty was able to work with the Syracuse Crunch Hockey Club, the Newhouse Sports Media Center and the ACC Network.
Courtney Terr '22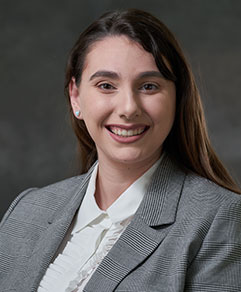 For Courtney Terr, the combination of a Forever Orange Scholarship and the one-year master's program in New Media Management was too good of an opportunity to pass up. She originally wanted to work a few years before returning to graduate school but decided instead to "just do it."
She had just earned her bachelor's degree in the Whitman–Newhouse dual Marketing and Advertising program, so was initially concerned that she wouldn't be ready for the next step. "I didn't have prior work experience like some of my peers, but I was reassured because all of us in the program are learning something new, so all are essentially starting from the same place."
Courtney did a Newhouse Startup Garage co-op internship with United States Travelers League, a startup that encourages exploration of all 50 states. She was charged with creating and implementing an audience development strategy from scratch, a role that provided "an incredible experience."
Now, with great satisfaction and appreciation for her master's-degree path and her Forever Orange scholarship, Courtney has advice for other students: "Take advantage of all the opportunities presented to you. You never know what you'll learn just from taking a chance."
More Information
As a member of the Class of 2022, you are eligible for the 2022 Forever Orange Scholarship if:
You graduate in December 2021 or have submitted a Diploma Request for May, June, or August 2022;
You officially complete your undergraduate degree in December 2021, May 2022 or August 2022, prior to starting coursework for a graduate program;
You are admitted to study full time in a qualifying graduate program (see list of qualifying programs below) and begin the program no later than the start of the 2022-23 academic year.
Note: Deferring to a future semester beyond fall 2022 is not permitted. Also, you must maintain full-time continuous enrollment status throughout the duration of the program.
There are a wide variety of programs from which to choose—degrees that directly continue your undergraduate studies and those adding another dimension to your qualifications. Our graduate staff and faculty are available to address your questions and guide you through the application process. We encourage you to consult with the career advising staff in your college for additional guidance and assistance.
The comprehensive list of eligible programs for the 2022 Forever Orange Scholarship includes links to program overviews, allowing you to become familiar with the nature of the program, the curriculum, and admissions requirements. The Scholarship only applies to residential programs. Application fees for graduate programs are waived for all Syracuse University students. Applying to a graduate program can be done entirely online—apply now.
Once admitted to a graduate program and upon officially completing your undergraduate degree, you may enroll in the first term of entry available in 2022.
For program specific and admissions information, visit the Graduate School's Answers page.
For general questions regarding the Forever Orange Scholarship, email Tracy Balduzzi.