The COVID-19 pandemic has created obstacles for many Ph.D. students working to complete their degrees before their available funding runs out. Graduate students must conduct independent research, and much of that research was disrupted.
---
Mechanical and aerospace engineering Ph.D. student Sajag Poudel and Professor Shalabh Maroo in the College of Engineering and Computer Science were awarded a National Science Foundation (NSF) INTERN grant to support Poudel's research internship at the Oak Ridge National Laboratory for the Fall 2021 semester.Syracuse University Libraries and GSO Hosting Graduate Research Roundtable Series
---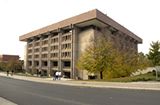 Syracuse University Libraries and the Graduate Student Organization (GSO) are hosting a series of events for graduate students during the Fall 2021 semester in Bird Library. The Graduate Research Roundtable Series provides academic and professional development for graduate students of all disciplines and actively engages them with specialized resources and services to help support their graduate careers. All events run 5:30-7:30 p.m. in Bird Library Peter Graham Room 114. Food will be provided and registration is required for each workshop.Graduate School BIPOC Alliance Reflects on First Event, Plans Programming
---
The Graduate School's new initiative for building community, networks and a sense of welcome in support of graduate students who self-identify as Black, Indigenous or other persons of color kicked off the year with an event featuring a panel and outdoor gathering at the Inn Complete.  The Graduate School BIPOC Alliance for Excellence (GSBA) is open to all master's and Ph.D. students at the University, from any background, race, gender or other identity.
---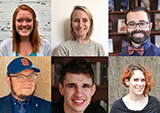 In June, the Graduate School launched a Humanities Summer Internship program, supporting two humanities Ph.D. students through paid internship opportunities at Syracuse University Press and the Syracuse University Art Museum.