Winners Announced in Graduate Dean's Award Competition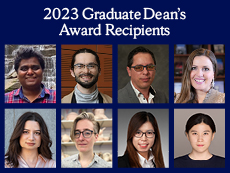 Eight master's and doctoral program students have been selected as winners of the 2023 Graduate Dean's Award for Excellence in Research and Creative Work competition. The awards are presented annually by Syracuse University's Graduate School to recognize overall graduate-level academic excellence and outstanding research initiatives and creative activity.
The competition drew 72 submissions representing broad disciplinary categories. Winners were chosen by a panel of faculty members serving on the Graduate Faculty Council.
"I'm extremely impressed by the broad interests and exciting initiatives these eight award winners represent," says Peter Vanable, dean of the Graduate School. "The 2023 honorees are talented scholars who have produced excellent work. They are wonderful representatives of the graduate student community, and we are excited to see where their paths lead and how they apply their scholarship to society's interests and needs."
A recognition event, which includes brief presentations from each of the awardees, takes place Friday, March 24, from 3 to 5 p.m. in 204 Maxwell Hall. A reception will follow. Faculty, students and staff are welcome to attend; RSVPs are requested.
Honorees and their winning submissions are:
Sarthak Gupta, a doctoral student in physics, College of Arts and Sciences, "Characterizing a Diseased Cell Nucleus Through Computational Modeling Techniques"
Alexander Hartwell, a doctoral student in mechanical and aerospace engineering, College of Engineering and Computer Science, "Ceramic Origami: Self-Shaping of Ceramic Composites Utilizing Bilayer Shrinkage"
Odlanyer Hernández de Lara, a doctoral student in anthropology, Maxwell School of Citizenship and Public Affairs, "Violence, Destruction, and Memory: An Archaeological Approach to State Terrorism in Dictatorial Cuba (1952-1958)"
Lauren McCormick, doctoral student in religion at the College of Arts and Sciences, "My Eyes Are Up Here: Guardian Iconography of the Judean Pillar Figurine"
Samaya Nasr, a master's student in museum studies, College of Visual and Performing Arts, "A Walk Through the 19th Century's American West."
Katie Stone, a master's student in studio arts, College of Visual and Performing Arts, "Subtractive Building: Modeling Gender and Power"
Kelly (Mi) Hoang Tran, a doctoral student in entrepreneurship and emerging enterprises, Martin J.Whitman School of Management, "Hiring Among Tech Startups: When Is Diversity a Priority?"
Jeongwon Yang, a doctoral student in mass communications, S.I. Newhouse School of Public Communications, "Others Are More Vulnerable to Fake News Than I Am: Third-Person Effect of COVID-19 Fake News on Social Media Users"
Syracuse University doctoral and master's students from all disciplines who are in good academic standing are eligible to enter the competition. Applicants are evaluated on the overall strength and impact of their achievements in research or creative work.
---
Graduate Student Union Election Scheduled for Monday, April 3, and Tuesday, April 4
As communicated earlier this month, Syracuse University, Syracuse Graduate Employees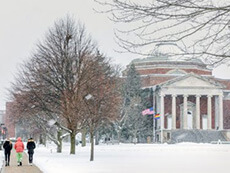 United (SGEU) and Service Employees International Union Local 200 United (SEIU) reached an agreement that will guide a graduate student union campaign and election. The election will take place on Monday, April 3, and Tuesday, April 4, from 9 a.m. to 7 p.m. at the JMA Wireless Dome. Graduate students are encouraged to participate to ensure the outcome reflects a true consensus.
For more information, including frequently asked questions about the topic of unionization, who is eligible to vote and the voting process, visit the Graduate Student Union Representation web page.
---
Graduate School Names Excellence in Graduate Education Faculty Award Winners
Eight faculty members are recipients of 2023 Syracuse University Graduate School Excellence in Graduate Education Faculty Recognition Awards. The honor is presented to faculty members who have a significant, positive influence on graduate education through their commitment to superior graduate teaching, dedication to departmental and community presence and work in research initiatives.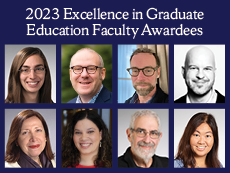 Winners were selected by an interdisciplinary committee of graduate students. They will be recognized at an award ceremony and reception on Thursday, April 20, along with the recipients of the Outstanding Teaching Assistant award. The ceremony is at 3:30 p.m. in the Syracuse University Sheraton, Regency Ballroom C.
The award winners are:
Sara E. Burke, assistant professor of psychology in the College of Arts and Sciences
Michael C. Gill, associate professor of disability studies and cultural foundations of education in the School of Education
Mike Goode, professor of English and William P. Tolley Distinguished Teaching Professor in the Humanities in the College of Arts and Sciences
Eric J. Grode, associate professor and director of the Goldring Arts Journalism and Communications program and associate professor of magazine, news and digital journalism in the S.I. Newhouse School of Public Communications
Maria Minniti, professor of entrepreneurship and emerging enterprises and Bantle Chair in Entrepreneurship and Public Policy in the Martin J. Whitman School of Management
Beth Joy Patin, assistant professor of information studies and co-founder of the Library Information Investigative Team research group in the School of Information Studies
Merril Silverstein, professor of sociology and inaugural recipient of the Marjorie Cantor Endowed Professorship in Aging Studies in the Maxwell School of Citizenship and Public Affairs, and professor of human development and family sciences in the David B. Falk College of Sport and Human Dynamics
Junko T. Takeda, professor of history and inaugural Daicoff Faculty Scholar in the Maxwell School of Citizenship and Public Affairs
Scholarship and Graduate Mentoring
Burke's research focuses on intergroup bias, including stereotypes, discrimination, prejudice and experiences of stigma. She says her "top career priority is providing compassionate, individually tailored expert guidance to doctoral students." Burke offers accessible information about her Intergroup Bias Lab research findings  and its lab manual. She demonstrates a commitment to diversity and inclusion by creating a welcoming environment through her in-depth explanations and exclusive videos of the "R" statistical computing environment, material that supports learning the R computer programming language.
Gill's research interests include feminist and queer disability studies; intellectual disability and sexuality; intersections with gender, race and science; and masculinity studies. He says he approaches his teaching "with a goal to generate and foster student interest while presenting diverse materials and methodologies…that connect to [students'] experiences and needs and encourage them to critically engage with communities of which they are a part." Gill helped establish the Engaged BIPOC Scholar-Practitioner Program and has advised students who participate in the Graduate School's Future Professoriate Program.
Goode specializes in late 18th and early 19th century British literature and culture with writings on historical reenactments, living history museums, the gender of history, the erotics of historicism, the comic public sphere and the ethics of the postmodern condition. He says he fosters graduate student success by "working very closely with individual students to develop their thinking, writing, teaching and presentational skills."
Grode's approach to ensuring a fulfilling graduate experience starts by understanding students' goals, ambitions, deficits and gifts. He says he creates opportunities to fully prepare his students to enter the job market "by fortifying them with the tools they need then offering continued mentorship as they pursue their careers."
Minniti specializes in international migration, immigrant politics, the sociology of religion, race and ethnicity and qualitative methods. She mentors students from a holistic perspective by "being present, available and involved, treating…each student as an individual with untapped potential" and providing practical guidance, encouragement and insight to help them navigate their entry into their professions.
Patin says she believes that "two of the most rewarding tasks in academics are teaching and mentorship…imparting knowledge to the next generation of scholars and researchers." She is recognized for creating an environment where students become critical thinkers and informed individuals who explore and challenge the status quo and who understand why the concept of culture is important in today's society.
Silverstein, principal investigator of the Longitudinal Study of Generations, says his method of mentoring graduate students "involves shepherding them through their graduate programs and integrating their course requirements with product-oriented goals." He encourages students to attend and present at conferences, introducing them to notables in the field and professionally socializing them to the norms, procedures and logic of scientific inquiry as well as to hone their critical thinking skills.
Takeda specializes in early modern European history, France, Mediterranean, economic globalization, state-building and revolutions, migration, history of medicine and disease and Asian-American history. She says she "tries to provide as many opportunities as possible for my students to start learning professional skills and to develop their own confidence early in their careers." She and a colleague helped develop the CNY Humanities Corridor working group and provide an inclusive and friendly venue for Ph.D. students to share their research.
---
Lei Wang, Yousr Dhaouadi Take Awards in 'Three Minute Thesis' Graduate School Competition
Winners of the Three Minute Thesis® (3MT) competition have been announced by the Graduate School. 3MT is a research communication competition that challenges graduate and doctoral students to deliver a compelling oration on the nature, significance and interests of their dissertation or master's thesis research in three minutes or less.
Champion Presenter
The 2023 Syracuse University Three-Minute Thesis champion is Lei Wang, a doctoral student in the instructional design, development and evaluation program in the School of Education. She presented "Decision-Making Matters: A Learning Resources Tool to Prompt Deeper Learning"  at the 3MT finals on March 3 in Bird Library.
Wang spoke about an innovative tool she developed to address a significant gap in the field of instructional design. She paired the tool with a systematic and comprehensive study evaluating the features of learning resources that prompt deeper learning. The term "deeper learning" goes beyond rote memorization of facts. Through thorough and in-depth understanding of content, it helps students transfer and apply knowledge to tackle new problems from multiple perspectives.
The competition provided Wang the opportunity to share her research with a wider audience while building confidence in her public-speaking abilities, she says. "As an international student from China, winning this has been an incredible achievement. The recognition has given me a newfound confidence in my abilities and strengthened my resolve to continue pursuing excellence in my field."
Wang's grand prize is a 16-inch MacBook Pro M1 computer. She also received a one-year membership in the American Educational Research Association. She will represent Syracuse University in the Northeast Association of Graduate Schools' 3MT competition in April.
'People's Choice'
Attendees at the 3MT finals selected as "people's choice" winner  Yousr Dhaouadi, a
chemical engineering doctoral student in the College of Engineering and Computer Science, who discussed "Controlling Bacterial Stress Tolerance with Light." Her research seeks to understand bacterial persister cells that reside within biofilms. Persister cells are linked to resilience of chronic infections against antibiotics and to the rise of antimicrobial resistance.
Dhaouadi says that being selected for the people's choice award "is an incredible honor for me. Communicating research on drug-tolerant bacteria can be quite challenging. Condensing intricate scientific concepts and technical terms into a three-minute summary requires contemplating the overarching objective of our research. I am delighted that the message I conveyed resonated with the audience. I am grateful for the recognition and am motivated to continue my research to develop effective tools to help combat the global rise in drug tolerance and resistance."  Her prize is a ReMarkable 2 tablet.
Other participants included:
Çağla Çimendereli, Ph.D. student, philosophy: "Being Yourself Behind Different Words"
Joy Nyokabi Karinge, master's student, Pan-African Studies: "Mercenaries of History: Migrating Archives, Controlling Narratives in African Studies"
Jooyoung Kim, Ph.D. student, economics: "How Do Same-Sex Couples Affect Central Cities?"
Mary Theresa Pagán, Ph.D. student, sociology: "The Elephant in the Room Has an Octopus Head: COVID-19 and Older Adults"
Durgesh Ranjan, Ph.D. student, mechanical and aerospace engineering:  "Hydrophobicity of Novel Carbon-Based Surface in Extreme Conditions"
Andrew Ridgeway, Ph.D. student, composition and cultural rhetoric: "Bad Rhetoric: Analyzing Conspiracy Theories on Social Media"
Magan Denae Straight, Ph.D. student, teaching and curriculum: "Our Lives Together, Artifacts of Siblinghood: A Visual Narrative Inquiry with Three Autistic Adults and Their Siblings"
Joonsik Yoon, Ph.D. student, social science: "Transnational Imagination: Generational Ties, Filial Piety, and Caregiving Across Borders Among Korean American Migrant Families"
Glenn Wright, executive director of career and professional development at the Graduate School, moderated the competition. Judges included: Amanda Brown, associate professor of languages, literatures and linguistics in the College of Arts and Sciences; Adam Cucchiara, doctoral student in public administration and international affairs and 2022 3MT champion; and Aaron Mohammed, assistant professor of earth and environmental sciences, College of Arts and Sciences with a joint appointment in the College of Engineering and Computer Sciences.
The Three Minute Thesis competition was founded at the University of Queensland to celebrate graduate student research. The first competition was held in 2008. It grew in popularity and today takes place at more than 900 universities across more than 85 countries worldwide and in both virtual and in-person formats.
---
Falk Graduate Student Arcènia Notilija Vilanculo Helps Create Food Forests on Syracuse's South Side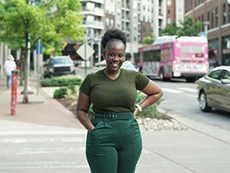 This past October, Falk College Food Studies graduate student Arcènia Notilija Vilanculo G'24 and Food Studies professor Anne Bellows were part of a group from the Syracuse Urban Food Forest Project that planted trees along Onondaga Creek in the City of Syracuse.
---
---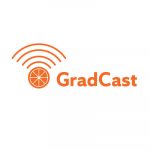 Join Syracuse University's GradCast to learn about professional and career development, hear from alumni and find out about events.
---
Learn about what is going on in the Graduate School this month.