Presenting your 80,000-word thesis would take about 9 (probably rather dreary) hours. Can you boil it down to … 180 engrossing seconds?
Three-Minute Thesis® (3MT) is a research communication competition developed by the University of Queensland, Australia. It challenges graduate students in all research programs to present a compelling oration on their thesis and its significance in just three minutes, in language appropriate to a non-specialist audience.
Only one static slide or graphic is allowed, and no audio or moving video is permitted. A multidisciplinary faculty panel judges the contestants on comprehension, content, engagement, and communication. That is:
What is your research about?
Why is it important?
What makes it cool?
The winner takes home a grand prize (often a high-end laptop) along with a year's membership in the professional organization of their choice and, in the years it is offered, the opportunity to represent Syracuse University in the all-ACC showdown of 3MT champions. A second competitor receives the "People's Choice" Award by audience vote. All participants partially satisfy requirements for the Graduate School's Digital Badge in Research Communication.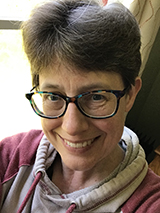 The reigning Syracuse University Three-Minute Thesis champion is Diana (Dee) Katovitch (Higher Education), for her oration, "Bridges to the Ivory Tower: Students with General Learning Disabilities Disrupting Higher Education"
---
Previous winners (click on the titles to see their performances):
2019: Ying Zhang (Human Development and Family Science), "Father Involvement, Relationship Quality, and Maternal Postpartum Depression"
2018 (Syracuse University/SUNY ESF): Farah Nibbs (Environmental Engineering), "Ferrocement-Biosand Rainwater Tanks as a Low-Cost Method of Improving Water Security and Climate Change in Small Island Developing States"
2017: Woosang Hwang (Human Development and Family Science): "The Impact of Paid Family Leave Policy on Fertility Decisions in Employed Families"
2016: David Moss (Earth Sciences): "The Evolution of Extreme Longevity in Modern and Fossil Bivalves"
2015 (Syracuse University/SUNY ESF): Laura Bartock (Environmental Communication and      Participatory Proceses), "Walking the Talk? Examining the Practical Application of Theoretical Models of Science Communication in Long-Term Ecological Research Sites"
2014: Lex Jing Lu (History), "Physiognomy, Beauty, and Political Power in Late Imperial and Modern China"