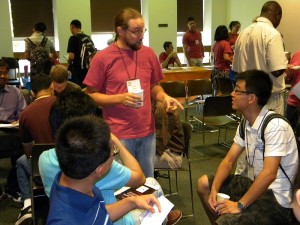 All first-time TAs are required to participate in an orientation program. The comprehensive, all-University TA Orientation Program held each August has two major components:
International Teaching Assistant (ITA) program. This two-day program is devoted exclusively to the needs of our new international teaching assistants (ITAs).
General program for both domestic and international TAs. This three-day program offers a mix of concurrent and breakout sessions designed to prepare graduate students for their roles as teaching assistants (TAs).
NOTE: In addition to the All-University TA Orientation, new TAs are expected to participate in their home department's orientation program, which is designed to introduce them to departmental procedures and curricula, specific course assignment and teaching duties. These activities normally take place the week following the All-University TA Orientation.
Registration information is emailed to new TAs prior to the orientation.
2019 International Teaching Assistant Orientation- Monday, August 12 – Friday, August 16
2019 All University Teaching Assistant Orientation- Wednesday, August 14 – Friday, August 16
2018 TA Orientation Session Handouts and PowerPoint Presentations
For more information about the TA Orientation Program, contact us at taprog@syr.edu or 315.443.2543